STAY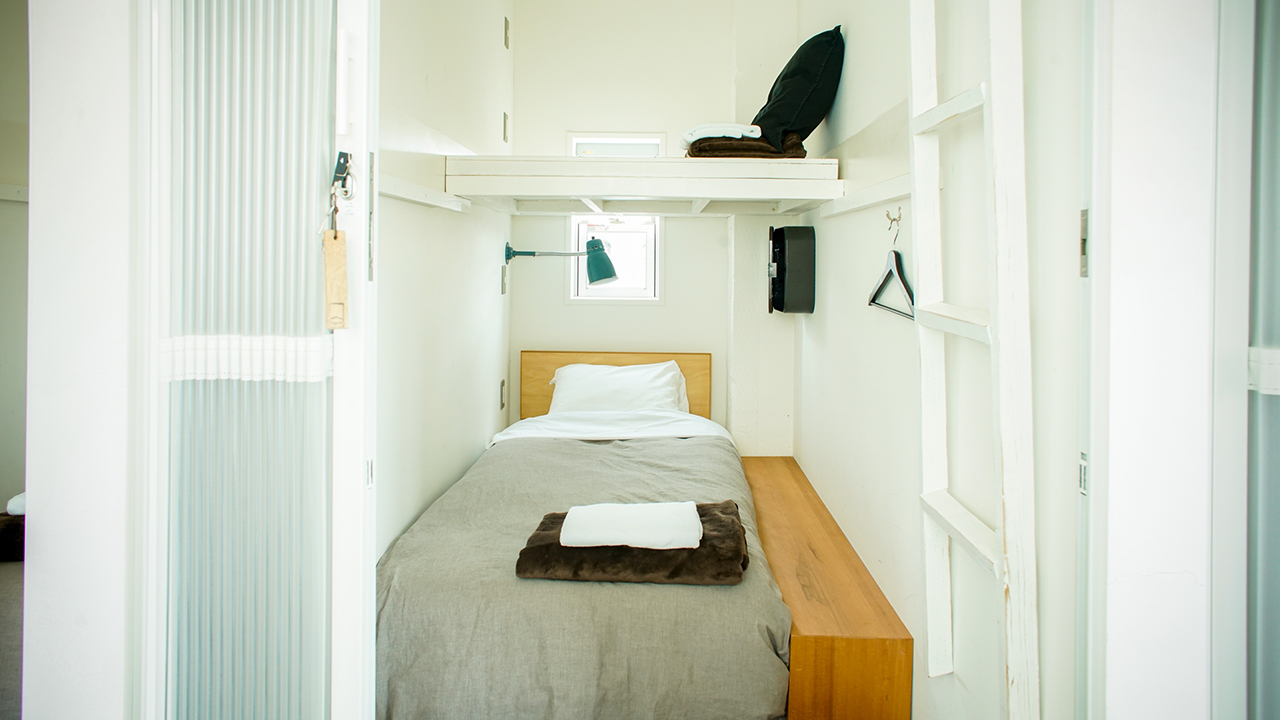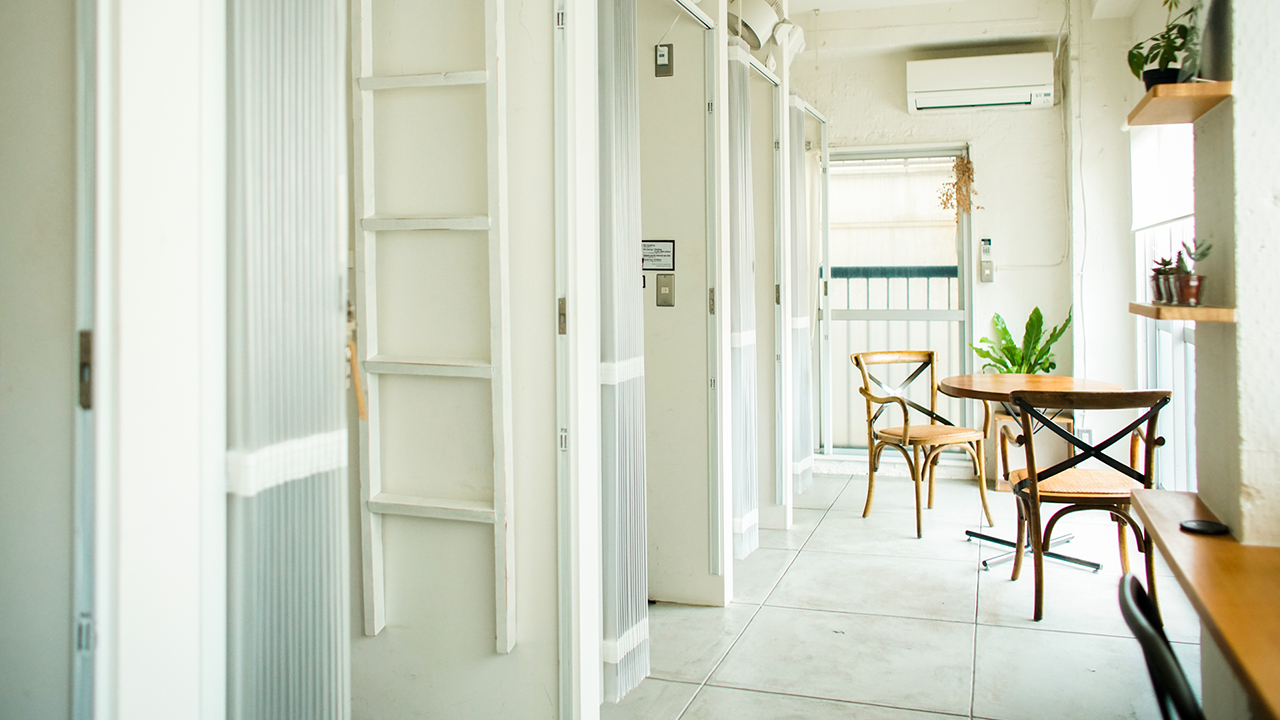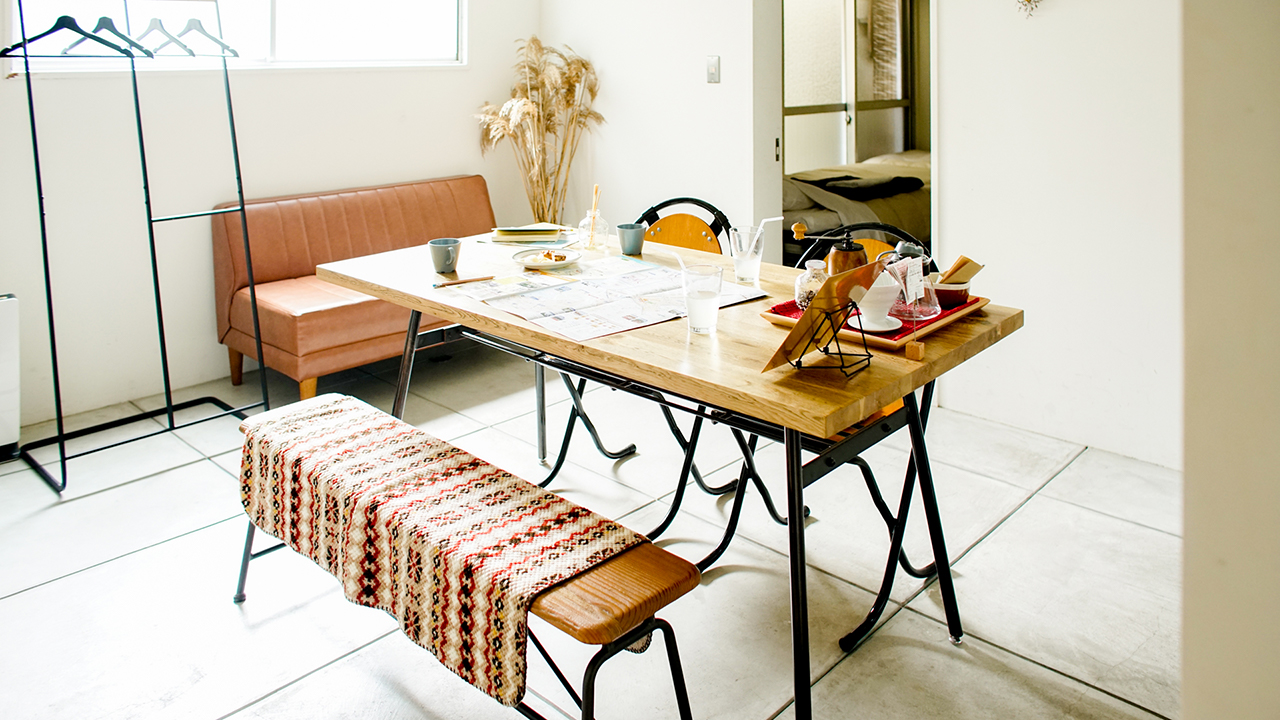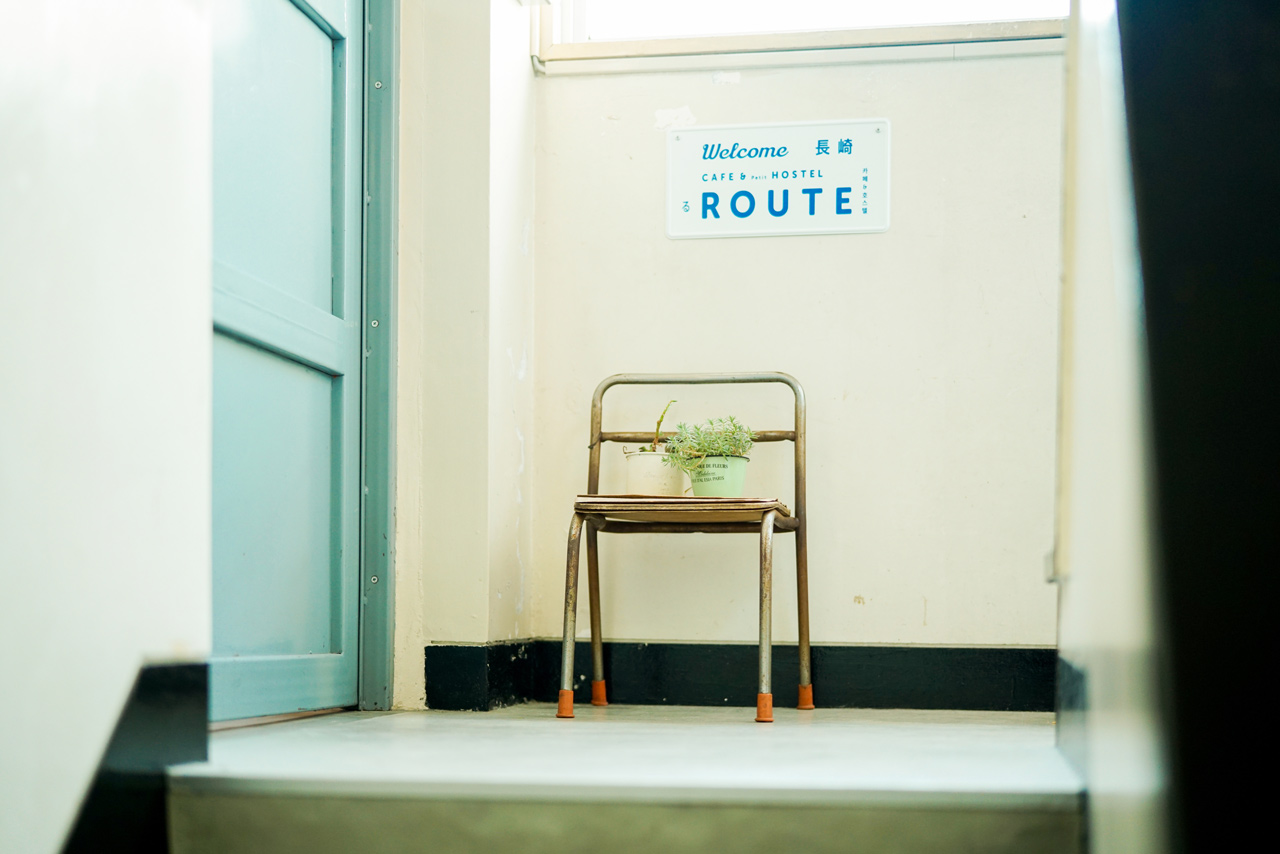 Unwind yourself and have a leisurely stay in Nagasaki.
ROUTE has sleeper train-like Cabins and a Private Room "studio" for a family or a group of friends. In this cozy hostel with a limited number of guests, you can relax and spend your time as you please, say, a photo shoot up on the rooftop with nice views, or biking around to feel a brisk breeze... Why don't you loosen up and enjoy your stay to your heart's content?
LOCATION:

5-14, Nishizaka-machi, Nagasaki

TEL:

095-895-8965

CHECK IN:

12:00-18:00
SELF CHECK IN : arrival after 18:00


※Baggage storage available before check-in(〜12:00)

CHECK OUT:

10:00
24hrs at ROUTE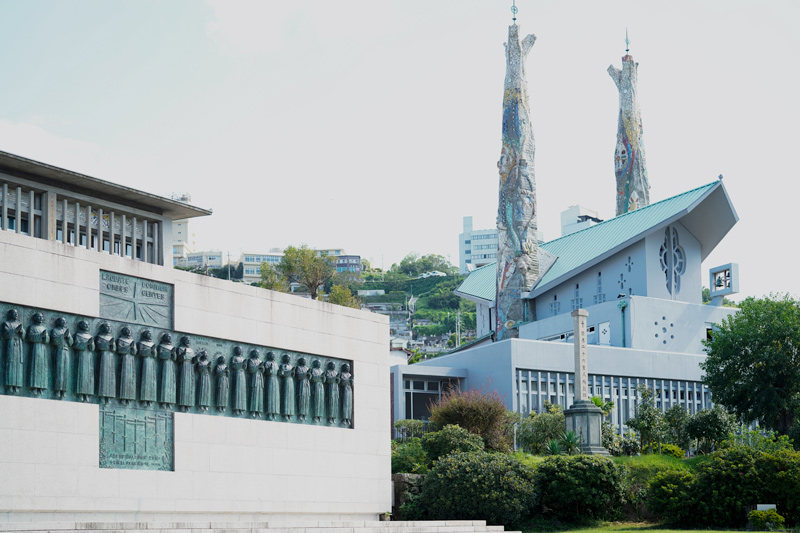 Morning(8:30-)
Take a walk around ROUTE to feel the air in the serene Nagasaki morning with a little art; learning history from the sculptures by Yasutake Funakoshi in the Nishizaka Park and admiring the wall painting of St. Philip's church.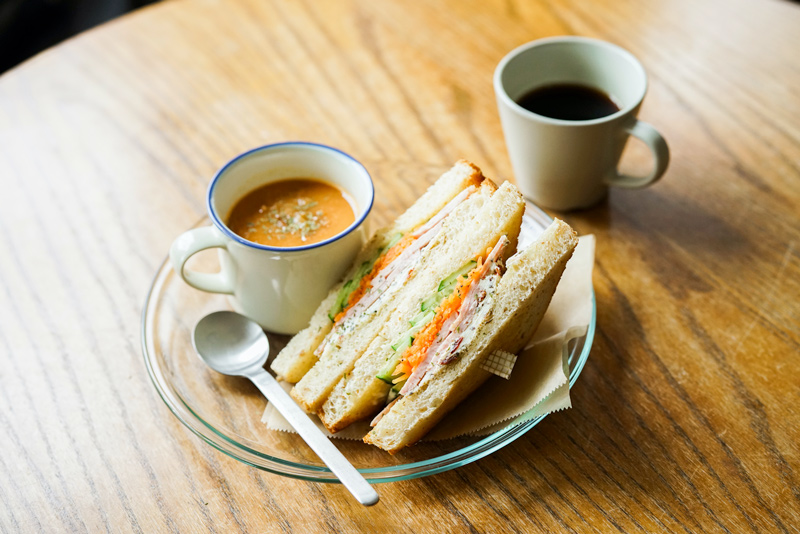 Breakfast(9:00-)
The sun shining on the church and children coming up hill for school... Plan your day with freshly made coffee, sandwiches and soup while enjoying the usual morning scene in Nishizaka.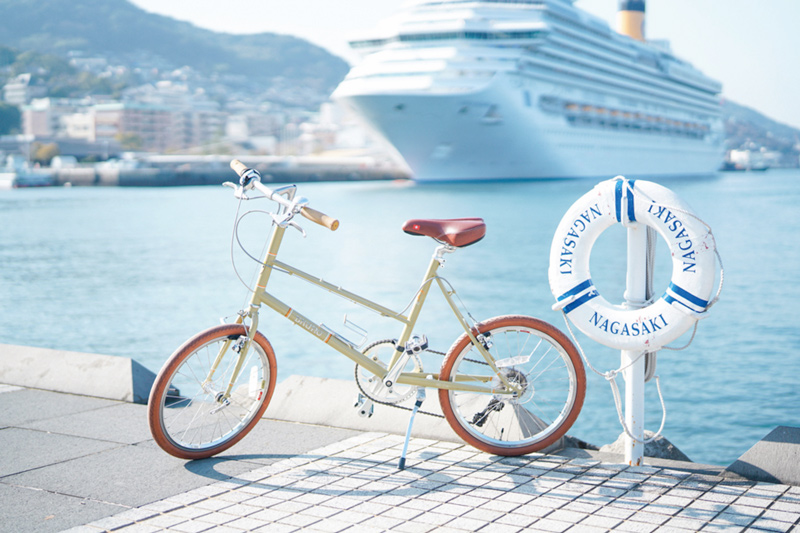 Ring-Ring! Time(9:30-)
Take a ride on a bike and explore the town full of tourist attractions and crooked alleys with our "Ring-Ring! Map"! Why don't you experience the culture of three countries, starting from Tera-machi with traditional Japanese temples, get Yori Yori (Mahua: twisty Chinese fried snacks) at Manjun, and visit the former Dutch trading post in Dejima.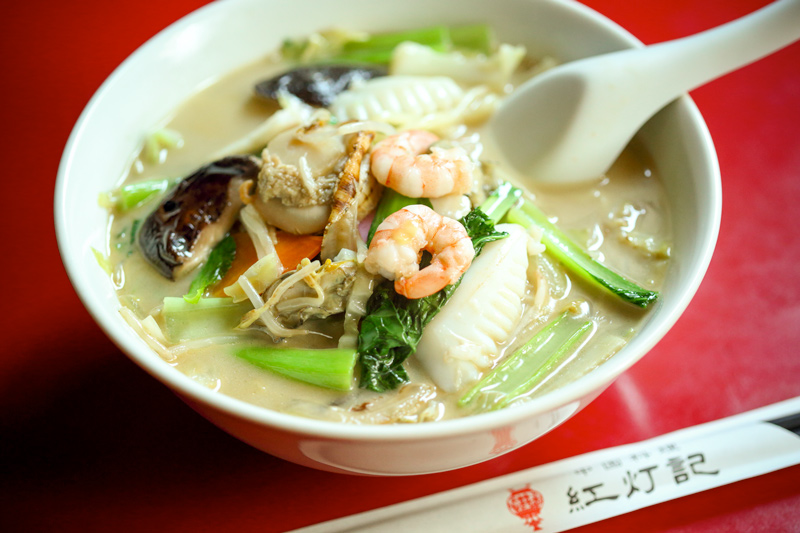 Lunch(12:00-)
The best part of traveling is eating! Nagasaki's specialty Champon or Sara Udon? Turkish Rice or Kakuni Manju (simmered pork in a steamed bun)? If you can't decide, don't hesitate to ask us!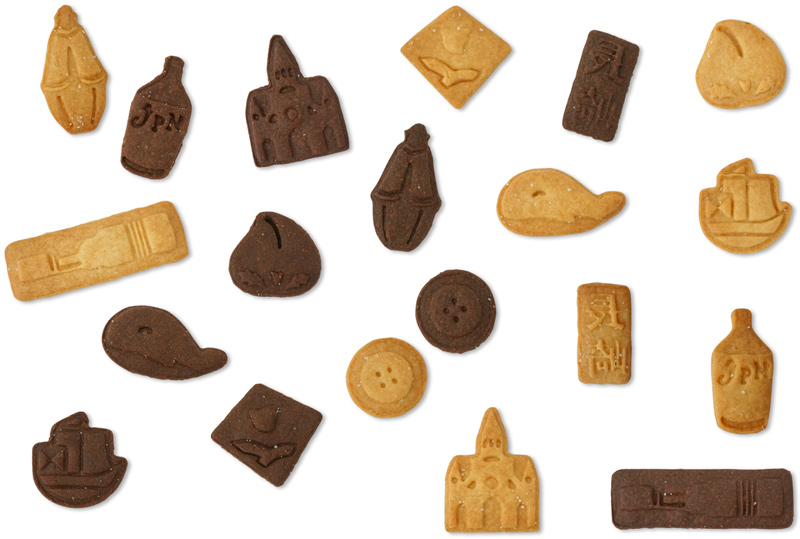 Break time(15:00-)
The Roof Garden of Nagasaki Prefectural Art Museum offering a stunning view of the harbor, is a good place for a rest. BISCUI10 (a box of ten various shaped biscuits, each representing the western culture first introduced to Japan through Nagasaki) is a must-get souvenir at its museum shop.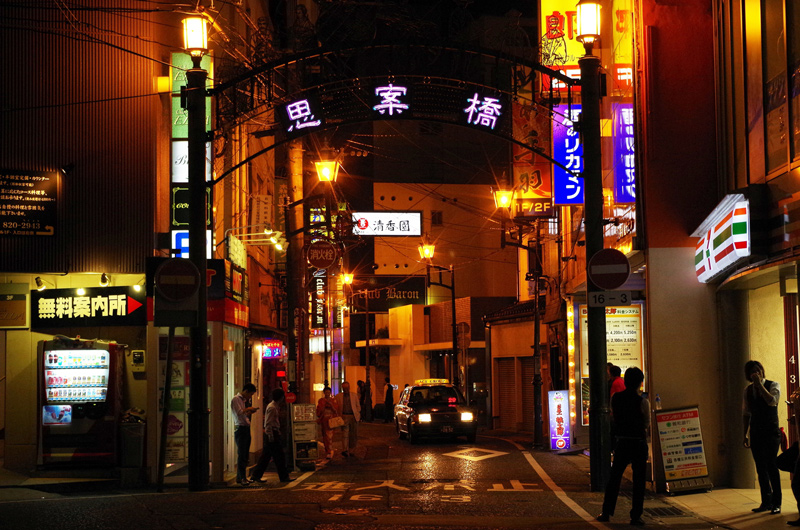 Dinner(18:00-)
The night view of Nagasaki is indeed spectacular, but Doza is another night out spot for those looking for drinks with sushi, dumpling, oden and more. Why don't you wander into the maze of nostalgic neon-lit Shian-bashi Alley?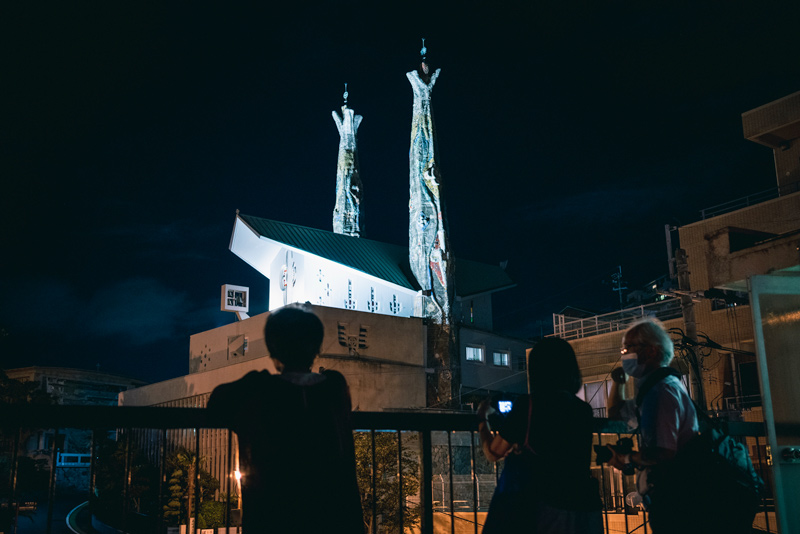 Night Time(20:00-)
Our favorite rooftop is also a great place to enjoy the illuminated St Philip's Church and the warm town lights on the slopes at night. Look back on the memory of your trip while feeling the night air.
Cabin Room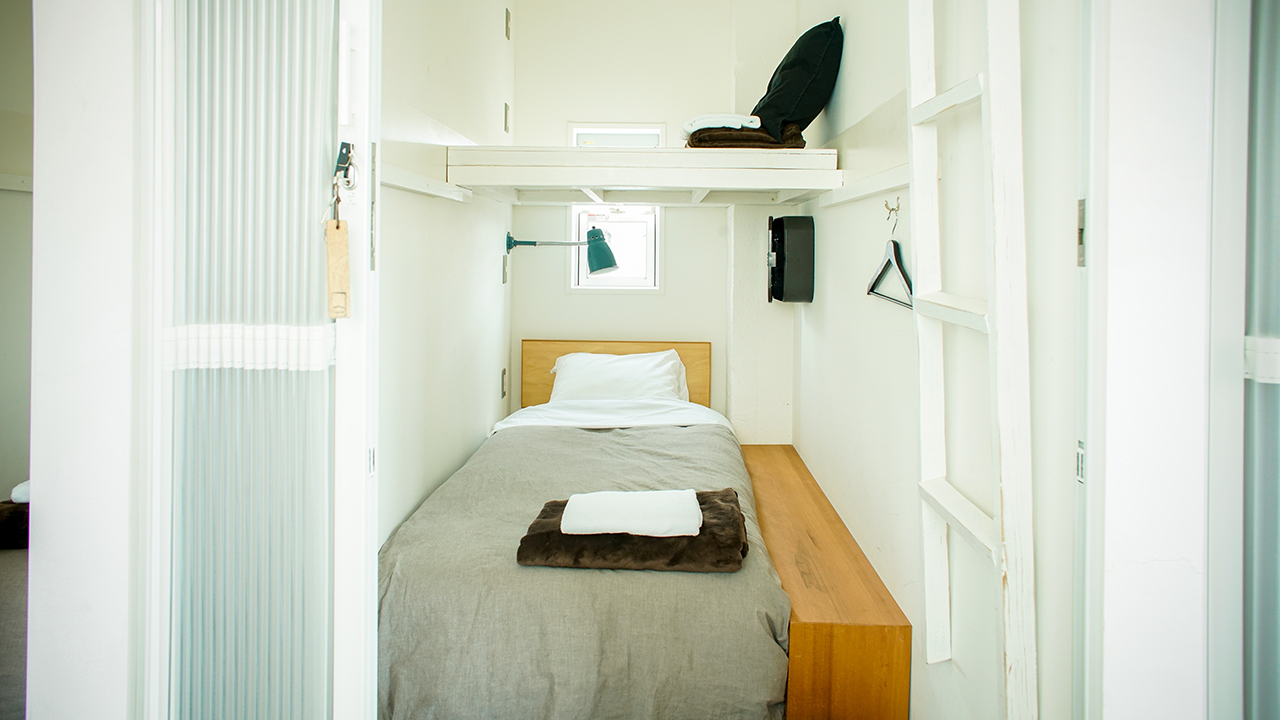 Cabin Room
A cozy floor lined with 5 semi-private cabins like a sleeper train — perfect fit for a solo traveler or a couple. Outside the cabins are shared space.
SPEC:

5 cabins, each with a lock
*Up to 2 persons/cabin (price per person)
*Shared: shower, toilet, mini-kitchen, free Wi-Fi
*We do not accept guests under the age of 15 (except when booked the entire floor for exclusive use).
PRICE:

3,990 yen (including tax)/person
*Possible to book the entire Cabin Floor for exclusive use (up to 8 persons). Please consult us.
*ROUTE Breakfast (advanced booking required): 800 yen (including tax)
Point 1

Accordion door of each cabin has a lock that secures your privacy.

Point 2

The sun shines in through the windows. You can see the St. Philip's Church and the sky across the window.

Point 3

Feel free to ask us for any local info!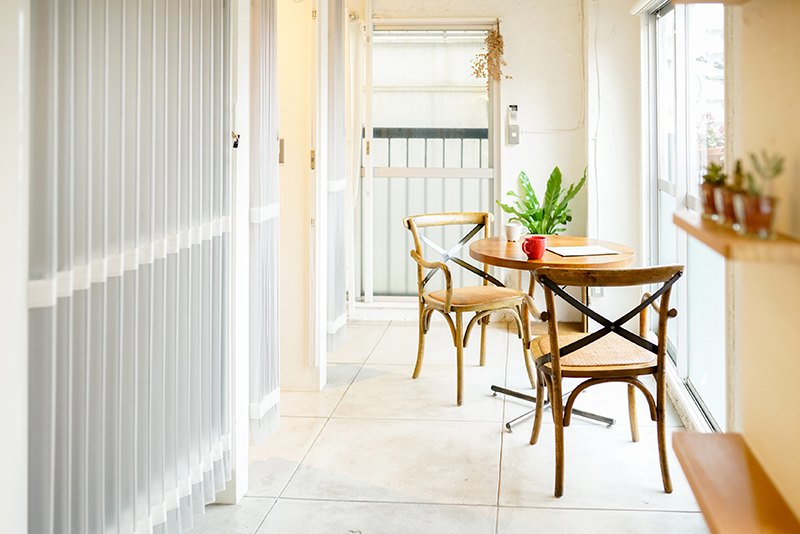 Private Room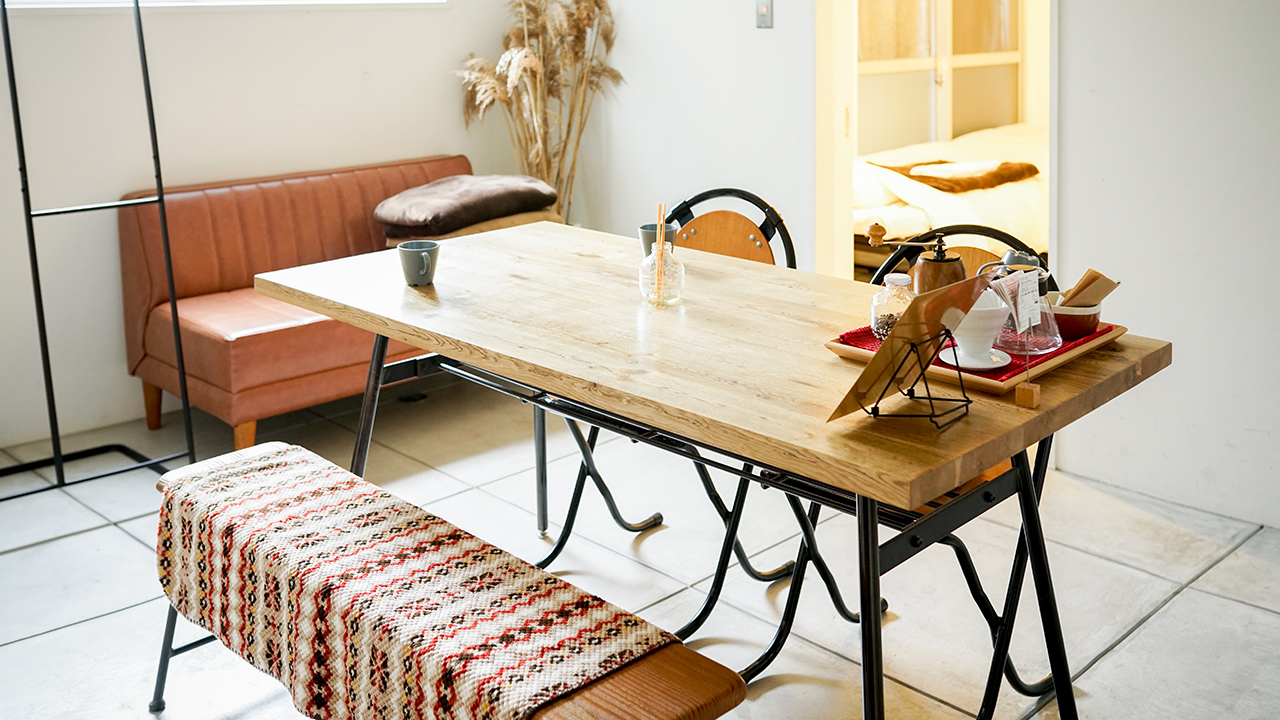 Private Room "studio"
Renovated apartment-like spacious room with dining and kitchen, our Private Room "studio" is perfect for a family or a group of friends.
SPEC:

One room
*Beds: max. 6 beds (including bunk beds), up to 6 persons/room
*Exclusive: shower, toilet, mini-kitchen, free Wi-Fi
PRICE:

15,000yen/night*
*The above price is available for a stay of 2 persons. For a group of more than 3 persons, additional fee per person is 5,000yen~/night.
*ROUTE Breakfast (advanced booking required): 800 yen (including tax)
Point 1

Enjoy the fresh aroma of locally roasted coffee with a mill, a benefit offered only to the guests staying in our Private Room "studio"

Point 2

Applianced mini-kitchen helps you cook with local ingredients.

Point 3

Separate dining area allows you to spend time individually, like grownups enjoy drinking in the dining area while kids are reading picture books in the bedroom.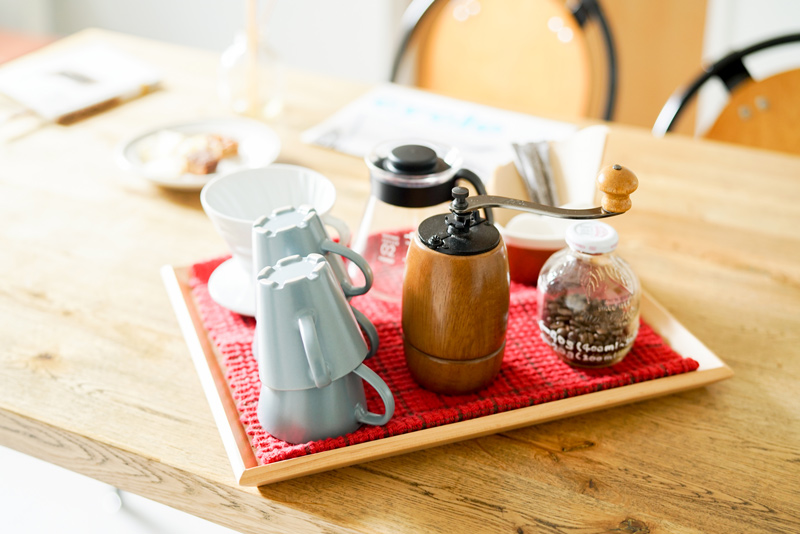 Breakfast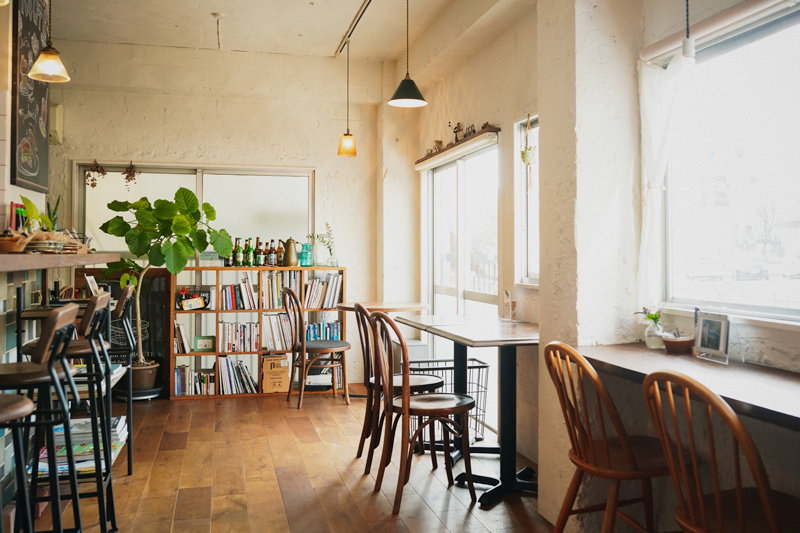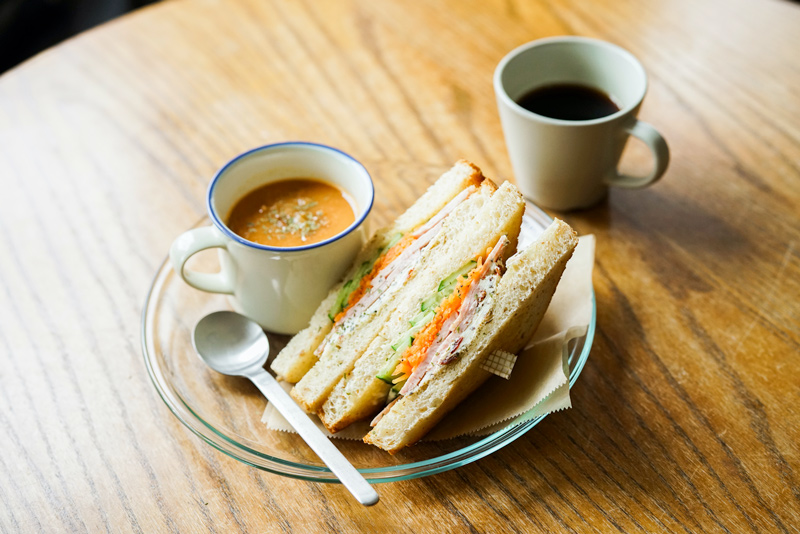 ROUTE Breakfast
We offer a homemade ROUTE Breakfast using local ingredients.
Please order by the day before.
*ROUTE Breakfast (exclusive for staying guests): 800 yen (including tax)
*Location: Cafe on the 2nd floor
*Open: From 9:00 to 10:00
*ROUTE Breakfast Box (take-out) is available for the guests leaving early in the morning.
FAQs
What time is check-in / check-out?
Check-in is from 12:00 to 18:00 and check-out is 10:00. In case you'd like to extend your stay, please inform at the reception before 10:00.
Can I check in after 18:00?
If you are arriving after 18:00, we ask for self check-in. The reception and the main entrance are locked at 18:00. If you need to ask for self check-in, please inform us in advance.
Do you have a curfew?
No, the main entrance is locked during the night, but you can use the key that you get at the time of check in to go out and come in freely.
Where can I store my baggage? Do you have any lockers?
Please store your baggage inside your lockable cabin. Each cabin also has a small locker for valuables.
Can you keep my baggage before check-in/after check-out?
Yes, we can keep your baggage before check-in/after check-out free of charge. Feel free to ask our staff.
Do you serve breakfast? What time can I have breakfast?
Yes, we serve breakfast by advance booking for 800 yen, and the breakfast time starts at 9:00. If you need to leave early in the morning, please tell us by the day before and we will prepare one for take-out.
Do you have a kitchen?
Yes, we have a shared mini-kitchen on the cabin floor, and an exclusive kitchen in the Private Room "studio," both including IH cooking heater, electric kettle, microwave, fridge and the like.
Can I smoke?
The entire building including the rooftop is NON SMOKING. An ashtray is placed outside the main entrance on the first floor.
Can I wash my clothes?
Yes, we have a washing machine (200 yen) and dryer (300 yen) on the rooftop. You can also hang out the laundry yourself on the rooftop.
Do you have a parking lot?
Unfortunately, we don't, so please park your car in a paid parking lot nearby. Please note that parking at Nishizaka Park Parking on the other side of our building is not allowed.
*Map of nearby parking lots is available at the reception.
*Usual pay rate for night-time (20:00–8:00): max. 500 yen, and for every 24 hours: max. 1500 yen
Do you have towels, shampoo and the like?
A towel and sheets are placed in the room. Shampoo, hair conditioner and body wash are in the shower booth, so please feel free to use them.
Service
Bed linens

Body wash / Shampoo, Hair conditioner

Hair dryer

Air conditioner

Locker for valuables
(cabin room)
Free Wi-Fi

Baggage storage

No curfew

No Smoking

Original traveller's map / Information
Tooth brush (for sale)

Mineral water: 100 yen

Washing machine: 200 yen
Dryer: 300 yen
About Booking
*Please read our cancellation policy before you make a booking.
*Booking can be made three months in advance.
*We ask all our guests for advanced payment (bank transfer or credit card) at the time of booking.
*In case you change or cancel your booking, we will charge or refund you the amount based on our cancellation policy.
ONLINE BOOKING
Best rate guaranteed by booking through our official website!
【Exclusive for booking through our website】
Nagasaki specialty Castella cake and Sonogi green tea will be served to welcome you.
ROUTE Cancellation Policy
The following cancellation fee will be charged in case you cancel your booking.
*For the cancellation on 3 days before the arrival to the day of arrival: 100% of the room charge
*No-show (without contact us): Total amount of your entire stay you booked
*Cancellation policy may vary depending on the days to stay or accommodation plans.